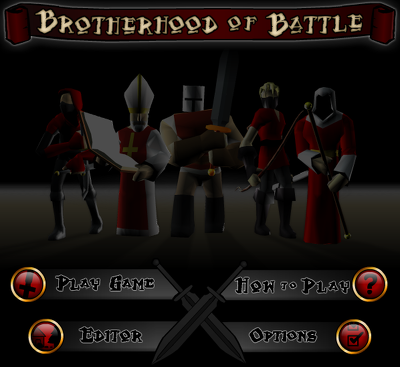 Description
Edit
Brotherhood of Battle is a Flash based Mmo created by Xgenstudios.com. It could be discribed as a warcraft(Not WoW but the original 1994 warcraft) style game.
Players start out with a fortress and a unit. The player sends out the unit to aquire resources then the fortress gets expanded. Eventually the player gets more units and the cycle continues.
There are different game modes tho. In capture the flag it's not as important to gather resources.
Now adays there is no one online playing BoB, It's widely considered dead.
There are 5 classes in Brotherhood of Battle
Rogue, Priest, Knight, Ranger, and Mage
Statistics:
Base Damage: 25
Hit Points: 80
Move Speed: Medium
Sight: Medium
Abilities:
Sneak
Backstab
Sneak Attack
Bolas
Assassinate
Strategy:
The perfect stealth unit. He can go invisible when not too close to an enemy and has powerful stealth attacks.
Strength:
Sneak Attacks and Backstabs
Weakness:
Open Melee and ranged
Statistics:
Base Damage: 15
Hit Points: 100
Move Speed: Slow
Sight: Poor
Abilities:
Area Heal
Heal
Protect
Resurrect
Strategy:
Next to useless in any form of combat, but a vital unit for healing and strengthening the brotherhood
Strength:
Healing
Weakness:
Melee
Statistics:
Base Damage: 30
Hit Points: 150
Move Speed: Medium
Sight: Poor
Abilities:
Battle Cry
Slash
Charge
Whirlwind
Strategy:
Can be used both defensively and offensively, just be careful of ranged attacks and sneak attacks from Rogues
Strength:
Close Combat, Defence
Weakness:
Ranged and Magic attacks
Statistics:
Base Damage: 20
Hit Points: 100
Move Speed: Fast
Strength:
Exploring and ranged attacks
Weakness:
Melee
Statistics:
Base Damage: 15
Hit Points: 80
Move Speed: Slow
Sight: Poor
Abilities:
Empower
Bolt
Fireball
Freeze
Shockwave
Siphon
Strategy:
Great for offensive keep out of Melee combat range
Strength:
Weakening and Damaging enemies
Weakness:
Melee